A small kitchen poses a number of unique challenges which can all be overcome with just a little creativity and imagination. It's all about making the most with the limited amount of space afforded by your home's floor plan. Small kitchens don't need to be a headache, not with all of the effective methods out there for not just making the kitchen appear larger than it really is but by utilizing all of the existing space you have at your disposal.
In fact, there are five really clever space saving ideas for your kitchen that you should know and take advantage of to help make your diminutive kitchen look and feel much larger than it is in reality.
Whether your kitchen is large or small, you'll find that cabinet storage is often at a premium. For most kitchens, the cabinets take up a significant amount of square footage along your walls but those of you living with less expansive kitchen areas you need to think carefully about your storage.
You likely have some cabinets to work with already so you'll need to be careful and conservative about what you place in there and how you do it. But if you're still lacking sufficient space, you can add racks, grids, or magnetic rails to your walls for additional storage space to hold everything from pots and pans to utensils.
2. Cabinet Refacing
A good way to make your kitchen appear larger is by refacing your existing cabinets to give them a whole new aesthetic. Brighter colors make rooms appear bigger than they actually are to the naked eye. You can find all kinds of wonderful and inspiring cabinet refacing tips by just doing some Internet searches for new and exciting ideas you may not have considered yet.
This kind of home improvement project is also easy and affordable.
3. Think Small
Since you don't have a whole lot of room to work with in your kitchen, don't overcrowd what little space you do have with large appliances. Choose smaller versions of the most popular items, from your refrigerator to your dishwasher. Maybe you want to avoid having a microwave oven altogether if you already have an oven and stove in the kitchen.
4. Use An Island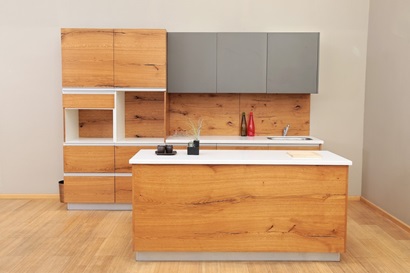 An island is usually reserved for those kitchens with plenty of floor space but they're well suited for small kitchens as well. You'll find many portable versions out there that are equipped with casters for simple maneuverability. Not only do you get a little extra room for food prep but you'll find many of them come with a shelf for extra storage space as well.
When you're dealing with the problem of limited countertop space and a minimum of cabinet storage, an island can be a great solution.
5. Look Under The Sink
This storage area is usually reserved for cleaning products and other items that might contain chemicals. While you shouldn't put food in this area of storage, you can open some counter space by placing things like paper towels or garbage bags under the sink as well.