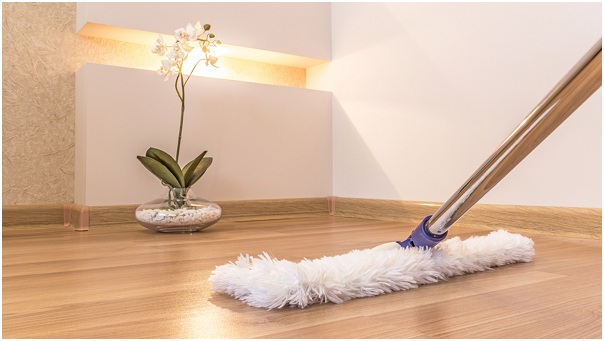 How to clean wood floors naturally? This is the question that revolves in the mind of millions of homeowners, having wooden floors in their house. Installation of the wooden floors definitely makes space look all the more exotic, however, you require taking good care of the floors so that it stays in the perfect condition for the longest span. Here are some tricks and tips that will enable you to keep the floors clean naturally.
Try to replace the use of artificial and chemical-based cleaners to the extent possible
The market is flooded with artificial and chemical based cleaners that boast of producing 100% cleaning. However, as in reality, the picture is completely different, and the majority of these items trigger hazardous effects on the health of the occupants of the place, and on that, involves extravagant cost. In addition, these harsh chemicals can even damage the surface, and trigger outcomes like leaving stubborn water spots on the place, that becomes almost impossible to eliminate. Considering these points, use of natural cleaning agents like baking soda, vinegar, distilled water, for example, are always better options as the natural elements can produce the best cleaning, comes for no insignificant cost, and would never ever trigger some unwanted instances for the health of the occupants of the place.
Be soft in your approach while cleaning the floors
As you need to replace the use of the artificial cleaners, it will be wise to adopt a gentle and soft approach while cleaning the floors. This will minimize the pressure on the floors while cleaning and thus, prevent the chances of damage to the floors while cleaning. Use of soft clothes, toilet papers, soft towels is always advised for cleaning the wooden floors, rather than using the artificial wipes that tends to damage the floors.
When you opt for the natural cleaning agents, you overcome the threat of extravagant expenses, and most importantly, prevent the chances of health hazards, as outcomes of exposure to such agents. Thus, opting for these agents, you are definitely taking a wise move that will offer you manifold advantages, in addition, to keep the place, perfectly cleaned and healthy.
With the passage of time, more and more homeowners are trending towards the use of the natural cleaning approaches, and they are making the finest experience. Hence, you would certainly do a good job, taking a stand similar to them.