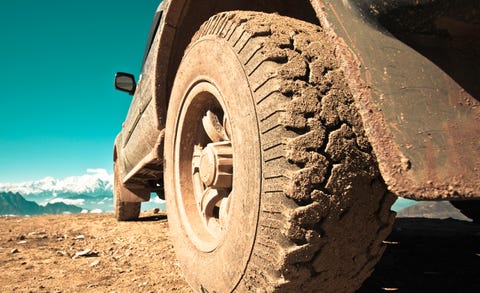 As capable as today's trucks and SUVs are, there are a few additional modifications that you can make to your vehicle and turning your stock cruiser into an off-roading one. When you are driving off the beaten path, it can be difficult to predict what you will come across, but with a mindset focused on safety and some add-ons, you can keep things rolling. On a paved road, these modifications may seem like overkill, but they will keep you prepared for the wild. Here are some of the modifications you can make for making sure your vehicle is good for off-roading:
When you are planning to venture off the tarmac, the easiest and the first upgrade to make is to get a set of purpose-built tires that have a deep tread. They will enable your vehicle to maintain its grip on snow, sand, mud or ice. 
Whether you plan to two anything or not, it is a good idea to put a hitch on your vehicle. It can actually serve as a mounting point for a number of accessories, such as spare tire carrier, bike rack or even a BBQ. It also provides an excellent tow point, if you have to be pulled out of a ditch. 
It is crucial to have ground clearance. You want to have as much room as possible under the vehicle without having to make sacrifices in balance. Even a boost of a couple of inches will reduce the chances of any obstacles getting in your way. The contents of the kit will vary, depending on what vehicle you have.
Do you want to protect your vehicle's body and the important mechanical components contained within it? This is where body armor comes in as it can save your vehicle from deep gouges, scratches and smashed differentials. You can opt for Line-X body armor as it provides everything to keep your vehicle's exterior fully protected.
While this modification may sometimes be included with lift kits, using heavy-duty spring hardware and bushings for replacing your stock suspension will lift your vehicle and also strengthen it. A blown bushing or snapped bolt will leave you stuck and swapping it out for polyurethane bushings is money well-spent. 
Even when you opt for lift kits, the delicate underbelly of your vehicle will come in contact with terrain at some point. This is where you need a skid plate as it protects your engine pan, radiator and drivetrain from any boulders that could lead to disaster.
When you cannot go over something, you will have no choice but to go through it. A decent bull bar is what you need for this purpose as it will help in clearing a path for you and keep the front of your vehicle free from any damage. 
Make these modifications to your vehicle and enjoy a fun-filled and safe off-road trip with your friends and family.