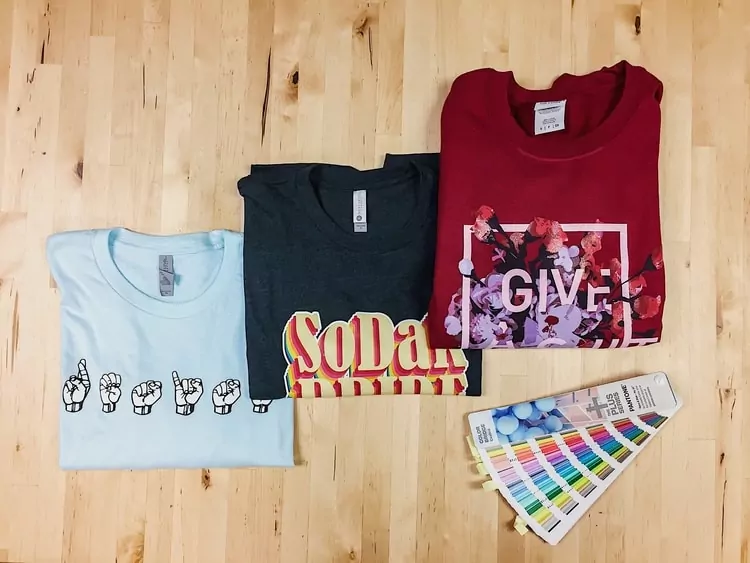 Printing on a custom t-shirt is the final stage of the production of custom t-shirts. However, there are different techniques for printing on apparels. It can be done through iron-on transfers and DTG printing. The two methods are different in terms of procedures. Meanwhile, the two techniques offer different qualities.
What is DTG Printing?
DTG simply means Direct to Garment Inkjet Technology. DTG printing involves the use of Inkjet Printer to print directly on a custom t-shirt and other apparels. Many artists and fashion designers use DTG printing. This printing method is slower, but it provides high resolution and maximum quality, so designs will never fade. Initially, DTG was meant to print on 100% cotton and white backgrounds, but now, it can print on any kind of dress. Earlier DTG printers were Epson Inkjet printers. However, they can still be found around today.
Pros and Cons of DTG Printing
Pros of DTG include extensive color options, ideal for small batches and one-offs, and can print detailed designs and photographs. Cons of DTG printing include limited design placement and not cost-effective for large batches.
Qualities of DTG Printing and Iron-on Transfers Compared
Although most iron-on transfers are printed by inkjet printers, the inks in the printers are not meant for printing on t-shirts but papers. Custom t-shirts made via this method usually fade away entirely or crack terribly over time.
DTG printing, on the other hand, involves many processes before the actual printing on a custom t-shirt. The t-shirt would be pre-treated, and heat pressing will take place on the custom t-shirt before the actual printing. After printing on the shirt, the ink must be cured, and this guarantees high quality without any issues.
The quality of DTG printing is beyond being good; it is incredible. It is an incredible Direct to Garment printing technique that enables the printing of high-quality images or logos. The inks in the DTG printers are formulated for direct printing on to custom t-shirts. The quality of DTG printing can rival any other techniques of printing on garments, especially Screen-Printing Technology.
All the pre-printing and pretreatment processes ensure that the quality of DTG printing comes out amazing. The printed design lasts as long as possible. When it comes to DTG printing on custom t-shirts, there is nothing to worry about the quality unless the quality of the image uploaded is poor.